Welcome to Jones Chiropractic Wellness Centre!
Hanmer Chiropractor offers locations in Great Sudbury & Hanmer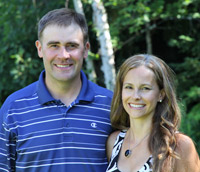 As a chiropractor, I look for new ways to explain what we do and why chiropractic works when traditional methods fail. We offer a variety of services to compliment your chiropractic care to help ensure we can provide you with the best results possible.
Our goal is to help each and every patient move along the road to wellness through the use of chiropractic adjusting techniques, massage therapy, acupuncture, and orthotics. We get to see positive changes in the office everyday which is what makes the job of being a chiropractor so great!
Spinal problems rarely resolve on their own and waiting often makes chiropractic care necessary to turn things around. Browse our website to see what chiropractic can do for you!
Call the Greater Sudbury Chiropractor who can help you!
Call Jones Chiropractic Wellness Centre now and schedule a consultation. Let's discuss your case and see if you're a good candidate for today's chiropractic care.
Dr. Brad Jones | Hanmer, ON Chiropractor | (705) 969-5040